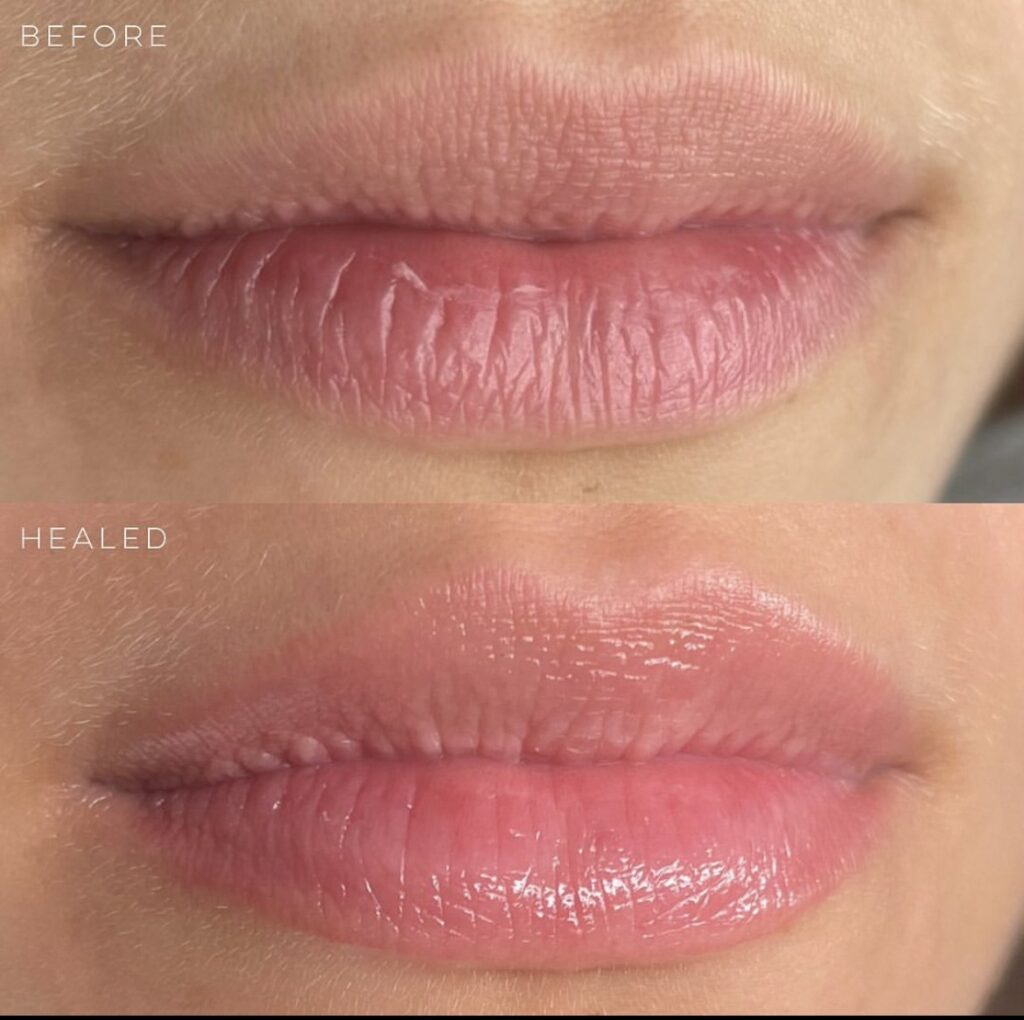 WHAT IS LIP BLUSH?
Lip Blush is quickly becoming one of the most popular ways to enhance your lips. By implanting beautifully colored pigments into the uppermost lip tissue by way of a highly advanced cosmetics machine, we are able to redefine the lip borders and add a flush of color to bring life back into the lips. Lip blush is a natural and watercolor effect, not a lipstick effect. This application typically lasts 2-3 years.
Lip Blush ….. $400
Retouch ….. $100
Before Your Appointment
Your lips cannot be dry for the appointment. We advise exfoliating your lips 3 days before your appointment to remove any dry skin. You can use a lip scrub or create your own by using salt or sugar mixed in coconut oil. For the week leading up to the appointment, you must moisturize your lips as much as possible.
COLD SORES
Cold sores are a risk of lip blush tattoo only if you have had them in the past. If you have had a cold sore in the past, we advise for you to go to the doctor for an anti-viral medication prior to any lip procedure as a preventative. This must be taken 4 days before, the day of, and 4 days after your procedure. Even if you have not had a cold sore before, we recommend all clients take L-lysine 2 weeks before the appointment and 2 weeks following the appointment to reduce their risk of a possible outbreak.
4 Weeks Before: No filler or injections in or around the lips. No chemical peels or laser skin resurfacing.
2 Weeks Before: Discontinue Retin-A, AHA/BHA's, or any skin care products that encourage exfoliation around the mouth area.
48 Hours Before: Avoid all blood thinners such as aspirin, ibuprofen, caffeine, coffee, tea, smoking, alcohol, soda, niacin, vitamin E, Advil, fish oil, etc.
Menstrual Cycle: Please note, you will be more sensitive during your cycle due to hormones in the body.
Skin Conditions: If you have any skin conditions, you are required to have a letter from your doctor saying it is okay to proceed with lip blushing.
Optional: Take Arnica pills before and after your procedure to help with healing. Extra strength Tylenol can be taken if you have a low pain tolerance.
After Your Appointment
For the first two days, you will want to wipe your tattoo every few hours with a damp cotton round – morning, afternoon, and evening.
Your lips will be swollen for the first 24 hours and take about 5 days to heal. During this time, your lips will shed, feel dry, and look patchy. The color will fade about 40% after the first few days. You may ice the skin if it is feeling tender after the procedure. Wrap an ice pack or a ziplock bag of ice in a napkin and place it on the area for 30-second increments.
Apply ointment (A+D ointment/Aquaphor) on your lips several times a day. This should be done for at least 14 days post-treatment. Do not allow lips to become dry but do not overdo the ointment. This may interfere with healing. Just pat a rice-grain size of ointment on the lip and do not rub in. Always use a clean Q-tip or clean/sanitized fingers to apply ointment to the lips area. This will reduce the risk of infection.
Lip Blush is affected by the canvas (your skin) that they are performed on. Lifestyle, medications, smoking, metabolism, facial surgery, other procedures, and age of the skin all contribute to fading and outcome. Every individual's skin is different; therefore, the initial application is always applied conservatively. The final color can be adjusted during a second session appointment. The lip blushing procedure is not complete after the first initial session. A second session appointment is highly recommended approximately 6-8 weeks after your first initial application to ensure longevity and best results.
Please remember that individual results will vary from person to person.
Though rare, infection is possible if aftercare is not handled correctly and with caution. If you see signs of infection, such as persistent increased redness or swelling, fever, drainage, or oozing, please contact your doctor immediately.
DO NOT EAT SPICY, OILY, ACIDIC, OR GREASY FOODS. DO NOT STRETCH YOUR LIPS. AVOID EATING LARGE BURGERS, SANDWICHES, ETC. PLEASE CUT THEM INTO SMALL BITES.
WHEN YOUR LIPS START TO SHED, DO NOT PICK, PEEL, OR PULL ON THE SKIN.
DO NOT GET SALINE WATER/SWEAT ON YOUR LIPS. IT MAY CAUSE THE INK TO BE PULLED FROM THE SKIN.
APPLY OINTMENT, SEVERAL TIMES A DAY, FOR 14 DAYS TO KEEP YOUR LIPS MOISTURIZED. PLEASE GENTLY DAB/PRESS INTO THE SKIN INSTEAD OF RUBBING.
DRINK LIQUIDS THROUGH A STRAW UNTIL YOUR LIPS ARE DONE PEELING
AVOID GETTING YOUR LIPS WET AS MUCH AS POSSIBLE. APPLY OINTMENT BEFORE BRUSHING YOUR TEETH.
DO NOT USE ANY SOAPS OR CHEMICALS ON YOUR LIPS. BE CAREFUL WHEN WASHING YOUR FACE. USE A WASHCLOTH TO WASH YOUR FACE TO BETTER CONTROL ANY LIQUID SUBSTANCE.
USE A MINIMAL AMOUNT OF NON-WHITENING TOOTHPASTE. USE A STRAW WHEN SWISHING WATER.
DO NOT EXPOSE YOUR LIPS TO DIRECT SUNLIGHT OR TANNING BEDS. SINCE THIS IS NEW SKIN, ITS PRONE TO SUNBURN WHICH COULD DAMAGE THE COLOR AND CAUSE SCARRING.
DO NOT SMOKE FOR AT LEAST ONE WEEK.
AVOID KISSING FOR 2-3 DAYS.
KEEP YOUR HANDS CLEAN AND AVOID TOUCHING YOUR NEW LIPS UNTIL THEY ARE DONE HEALING.
After Healing
TO HELP EXTEND YOUR LIP COLOR'S LIFE SPAN, PLEASE FOLLOW THE INSTRUCTIONS BELOW:
Apply any sunblock chapstick on your lips such as Aquaphor with SPF 50 or O'Keeffe's Lip Repair with SPF 35 if you are going to be under direct sunlight.
Avoid Retin-A, AHA/BHA's, and exfoliants on the lips. These can cause pigments to fade and lighten prematurely.
Avoid tanning beds.
Periodic touch-ups will ensure long-lasting results.
You can resume wearing lipstick once your lips are healed.
Healing Schedule + Expectations
You should expect to lose approximately 40-60% of the initial color during the healing process. In approximately 3 days, your lips will appear lighter. After about 2 weeks, the color will gradually resurface. They will appear softer once you have completely healed. The mouth is a breeding ground for bacteria, so it is extremely important to keep the area clean.
DAY 1
Lips are darker and intense than expected healed results right after the procedure. During the next hour, lips will continue appearing darker than the expected results. All clients will have moderate swelling and tightness after the procedure.
DAY 2
Swelling will subside. Lips will feel a little tender and tight. Lips will be dry.
DAY 3
Shedding begins. Lips will start to lighten in color.
DAY 4 – 6
Lips will continue to lighten and shed.
DAY 5 – 7
Shedding should be complete.
WEEK 2 – 4
The color will lighten then darken day by day. The true color will surface at the one-month mark. Your lips will heal in three stages: Too dark – Too light – Just right. This takes one month to occur from start to finish.
*If there are any freckles on the lips, they may appear darker during the healing process but will fade back to normal once healing is complete.
*For those who have a thin, white border around their lips, it may appear darker (like lip liner), but will fade and can be corrected during the second session.
Hyperpigmented/Melanin-Rich Lips
Please keep in mind that camouflage of hyperpigmented and melanin-rich lips will take more than one touch-up session after your initial session. In addition, these clients do not have a say on what color they want. I must neutralize the blue/purple undertones and use my professional judgment of color mixing to do so. Do not expect dramatic results after each touch-up session as this is a slow-building process. In addition, there is a risk of deeper hyperpigmentation occurring if aftercare is not followed correctly.